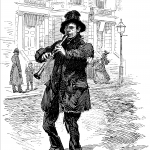 Minstrel's Alley Publishers
"Beautiful Bad Girl is a true story of obsessive love and BDSM," said Minstrel's Alley Publisher, M.J. Hammond. " It is the real thing. While tragic, it is also a wild adventure and a story of empowerment."
Los Angeles, CA (PRWEB) April 29, 2015
Minstrel's Alley announced it was planning on marketing its number one bestseller "Beautiful Bad Girl, The Vicki Morgan Story" as a thematic example of early female empowerment. Vicki Morgan was longtime mistress to department store scion and member of Ronald Reagan's Kitchen Cabinet, Alfred Bloomingdale. The non-fiction novel is told as a first person narrative through the eyes of author, Gordon Basichis, who worked on the book with Morgan, until she was murdered in 1983.
"In any number of publications, including an article in the Sun Herald, Fifty Shades of Grey is considered by many as a story of female empowerment ," said Minstrel's Alley Publisher, M.J. Hammond. "While Fifty Shades is a highly readable book, it is fiction, a fantasy. To see the result of a true story of obsessive love and BDSM, then Beautiful Bad Girl is the real thing. And it did not end well for either of the lovers.
"Minstrel's Alley believes it is time to create a new marketing campaign for Beautiful Bad Girl," said Hammond. "We see this as a story of a high school dropout who in the world of very rich and powerful people was able to prevail for over a decade, before her devotion to the one love of her life resulted in her murder. But in her prime this was a woman making some mid-six figure income in 1980's money as a mistress, confidant, and perfunctory lover of some of the more notable names in international society. That is no easy feat."
Hammond pointed out how Gordon Basichis' chronicle of Vicki Morgan's life has displayed remarkable legs as it has sold consistently since its first publication in 1985. She cited how the advent of electronic publishing created a robust market for this highly controversial story. Hammond also remarked that the new Minstrel's Alley marketing campaign should enable readers to see this story in a different light.
"When Beautiful Bad Girl was first published, many people were incredibly critical of Vicki Morgan," said Hammond. "They could not get past the fact that she was taking money in exchange for sexual favors. They refused to acknowledge the authentic but obsessive romance between Morgan and Bloomingdale that ultimately killed them both. Now, cut to the chase and it is thirty years later, and it seems women of all ages want to be like Vicki Morgan, if even for a little while. Or they want to share in their fantasy of what they feel was her lifestyle.
"Our new campaign is in the planning stages, and for better effect we are considering some form of interactivity where readers offer input and feedback on the topic of empowerment and sexuality," said Hammond. "Because with a book that is in circulation for thirty years it is more than just a story. It is a life lesson, in fact a lesson on many levels, much of it tragic. But if you want to learn at least one way how a woman of modest beginning gets over on what were some of the richest and most powerful people in the world, then you don't hear it from pundits, you get it from the source. In this case, the source is Vicki Morgan."